Managing Product Questions
Submitted product questions can managed by navigating to Catalog > Product Questions in the top Admin Panel menu.
Select a product question from the list to modify or answer it.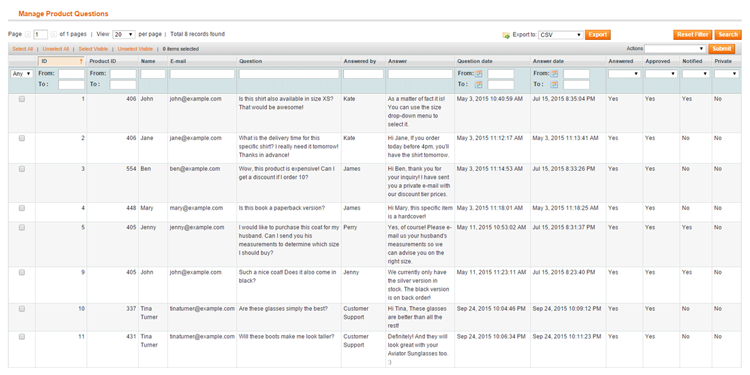 Alternatively, submitted questions can also be managed per customer in the Product Questions tab of the customer view (Customers > Manage Customers).
Logged in customers can view their product questions and answers in the My Product Questions tab of their front-end customer account.

Answering Product Questions
By selecting an item from the Product Questions grid you can:
Review and modify the customer's name, e-mail address and submitted product question.
Answer and approve the product question. Questions are only published on the front-end product page once they are approved, unless the auto-approve option is enabled in the extension's General Settings.
Enable the WYSIWYG text editor and include links and images in the question and answer content.
Use the quick-view links at the top of the page to view the product details in the front- and back-end.
Use the buttons at the top of the page to post or update the answer on the product page, notify the customer by e-mail, or both. The e-mail notification content can configured in the extension's Answer Notification Settings.