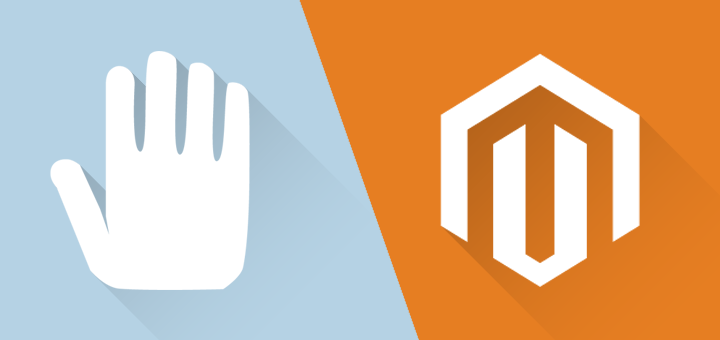 What's New in Magento Fraud Prevention v1.1.0
Our latest Fraud Prevention extension release comes with several great new features to prevent fraud independently in Magento: it now enables you to blacklist customer accounts, lets you block guests and payment processing during checkout and comes with new options to blacklist orders based on e-mail domain and IP address. Besides that you can now easily whitelist blacklisted orders with just one click of a button and enable your custom blacklisting rules for specific customer groups.
Read all about the new extension features below and check our Magento Fraud Prevention product page for more information!
Blacklist Customer Accounts
Using the Customer Blacklisting Settings in the Fraud Prevention config screen, you can now choose to blacklist customer accounts when a customer tries to place or update a fraudulent order (ie. an order triggering a blacklisting rule). The order will be still submitted in the back-end with the status 'blacklisted', but the customer is directly logged out and blocked from logging back in. If the customer is blacklisted during checkout, his shopping cart will also be emptied.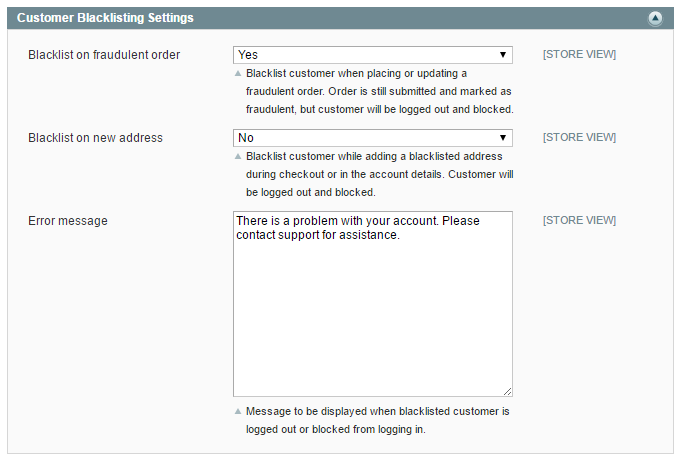 The second customer blacklisting option is even more aggressive, as it can be used to block both logged in customers and guests when they try to place an order using a blacklisted address, or when customers attempt to update their account details with it. Just as with the first option, customers will be immediately blocked and logged out and guests will be confronted with an empty shopping cart en deleted billing details, which will definitely discourage them from placing a fraudulent order again!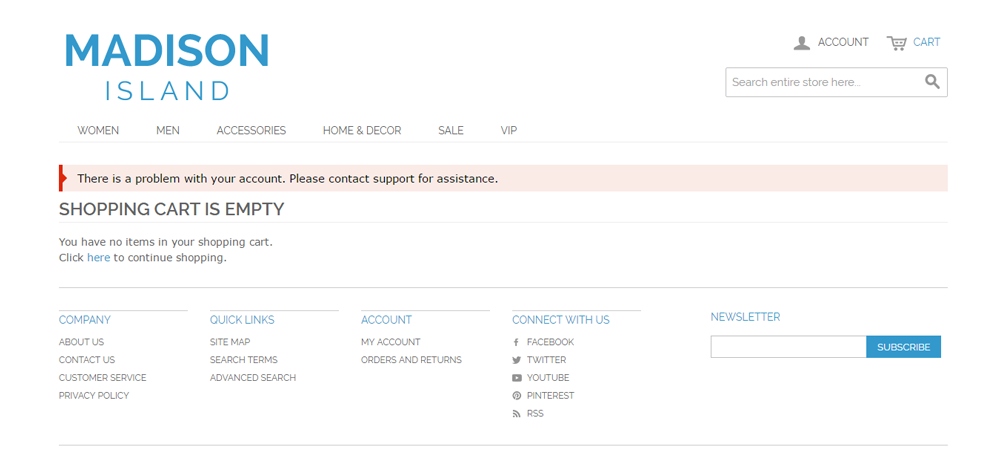 As of Fraud Prevention v1.1.0 you can also manually manage the Fraud Status of customers in the Account Information section of the customer details screen, choosing from 'Neutral', 'Blacklisted' or 'Whitelisted'. Blacklisted customers will not be able to access their account anymore and submit new orders until their Fraud Status is changed to 'Neutral' or 'Whitelisted' again.
Block Fraudulent Orders Before Payment
Another new addition in the extension's config screen is the Payment Processing Settings section, which lets you block payments by hiding the payment information section if a blacklisted address is used during checkout. In this way you can block fraudulent orders before they are paid and protect your business from unwanted credit card charge-backs.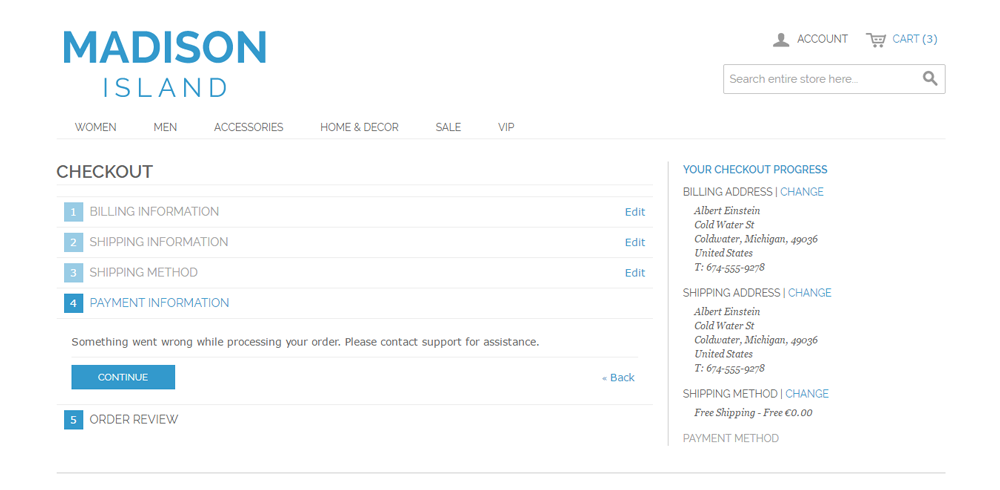 Besides that you can also prevent fraudulent orders using the Failed Payment Transaction Settings by adding a fraud suspicion strike to the customer's shipping and/or billing address when a payment transaction fails.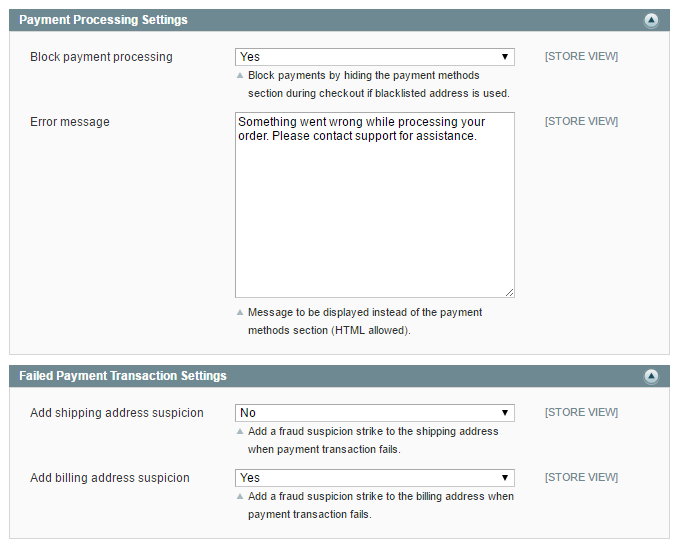 One-click Order Whitelisting
Our new extension release now finally makes it possible to whitelist blacklisted orders by simply clicking the 'Whitelist Order' button in the order details screen. Using the 'Whitelist Customer' button next to it, the current order as well as all future orders by this customer will be whitelisted.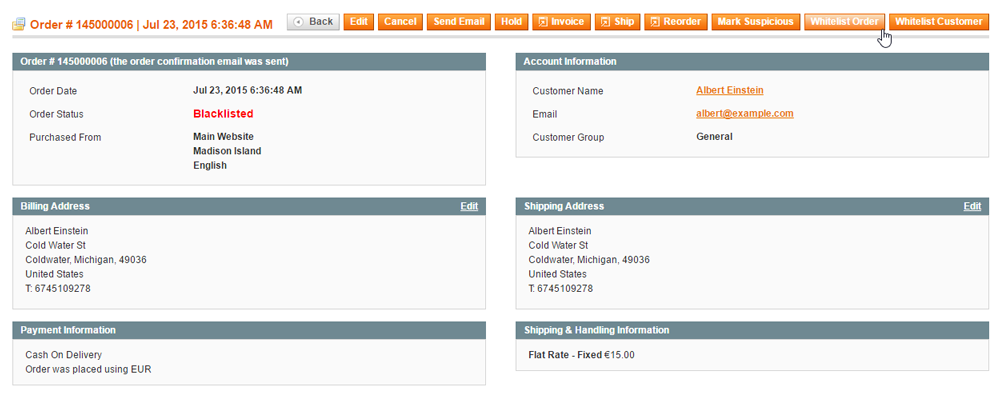 New Blacklisting Rule Options
At the request of our Magento Fraud Prevention users, our plugin now also lets you set up custom blacklisting rules based on the customer's e-mail domain and IP address, providing you with more options to detect and prevent fraud in your webshop.
On top of that you can now choose to enable your rules for specific customers groups in the Customer Groups tab of the blacklisting rule screen, so you can easily exclude trusted customer from your Fraud Prevention rules.