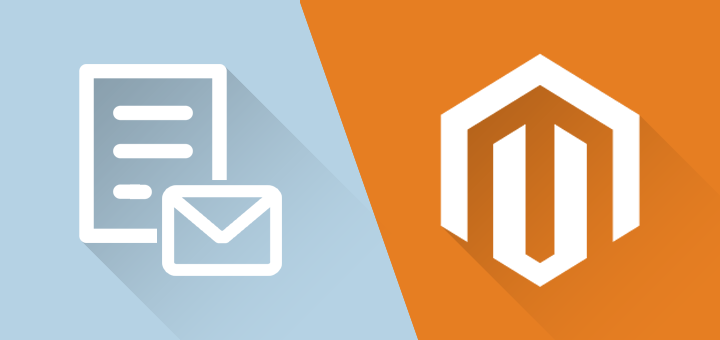 Our Custom Contact Forms extension enables users with little or no coding experience to create advanced contact forms for Magento. Using the extension's simple drag and drop form builder, its wide range of form components and amazing selection of Bootstrap powered front-end themes, you can easily create virtually any type of contact form you can think of!
Custom Contact Forms for Magento allows you to create an unlimited amount of custom forms, each supporting an unlimited amount of custom input fields. This articles sets out 10 great ways to use contact forms in your Magento web shop, showcasing just a few of the many design and display options that are included in our extension.
1. General Contact Form
Practically every web shop needs a general contact form, enabling (potential) customers to ask for additional information. Magento comes with a simple built-in contact form, which unfortunately cannot be easily customized or moved from its default position (examplestore.com/contacts).
Our Custom Contact Forms extension is great to spice up your default contact form, enabling you to insert additional input fields if necessary and choose from a variety of beautiful front-end themes.
Besides that you can insert the form anywhere in your Magento store using our custom contact form widget, for example in a CMS page or block, in a sidebar with pop-up form functionality, or as a fancy slide-out form as exemplified on the right!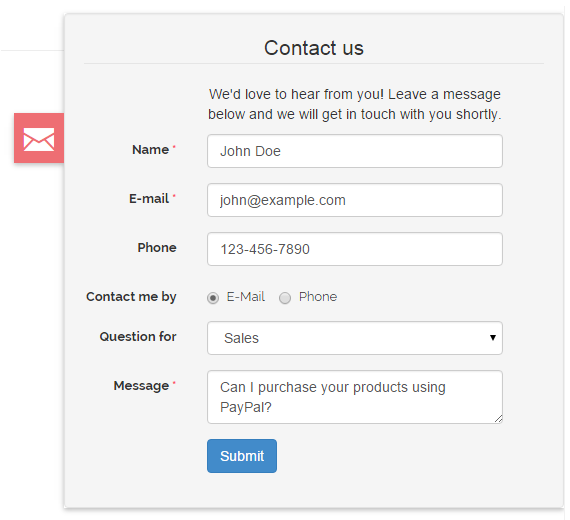 2. Customer Service Form
The default Magento contact form is only suitable for simple contact requests. When creating a custom contact form specifically aimed at customer service requests, you can insert additional input fields like order number, product name, contact preferences, etc.
In this way you will directly receive all the details needed to answer service request accordingly, helping you to provide the best possible customer support!
The example on the right shows our sidebar contact form widget with pop-up contact form.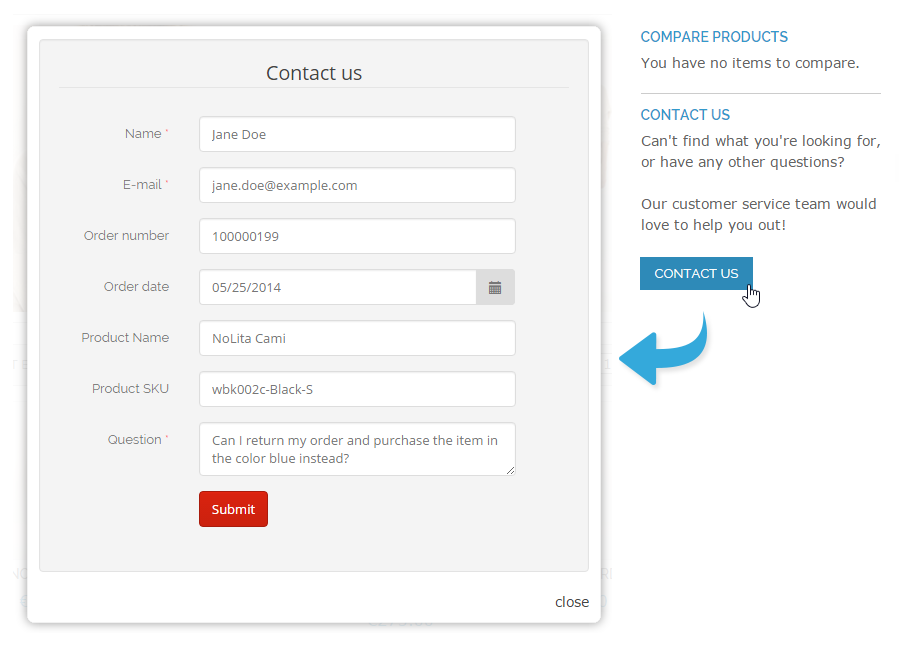 3. Customer Satisfaction Survey
One of the most important things to keep in mind when running a successful e-commerce business is to frequently measure your customer satisfaction level.
Using our Magento extension you can easily create a satisfaction survey to ask for your customers' opinion about your products or services.
You could add a contact form link to your order confirmation e-mails to increase the amount of submitted customer satisfaction surveys.
Besides that you can choose to save form submissions in your Magento Admin Panel, from where you can export the submitted data to CSV or Excel for further analysis.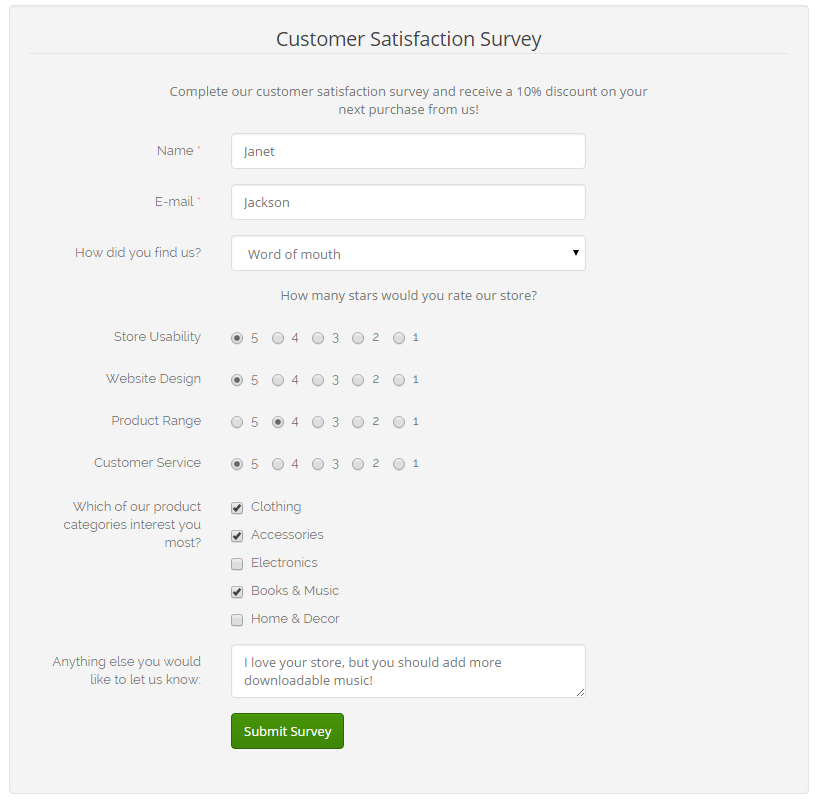 4. Product Questions Form
Using our custom contact form widget you can add a product questions form to your product pages, making it easier for customers to ask questions about a specific product without having to navigate to a separate contact form page.
Because the admin notification includes the URL on which the contact form was submitted, the admin can instantly see to which product the client is referring.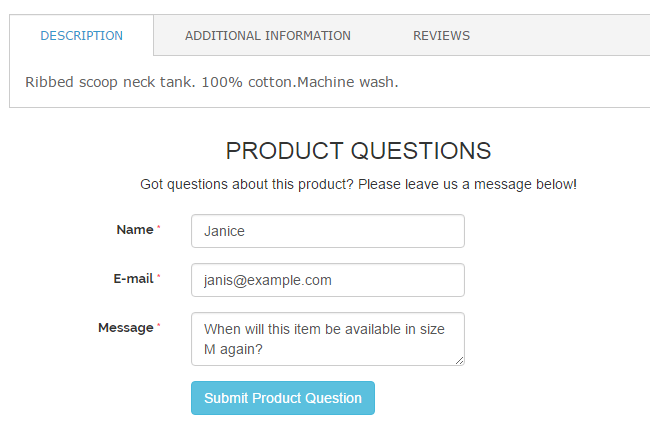 5. RMA Form
A faulty product can give both you and your customer a headache. Why not make the replacement or refund process easier for both parties by creating a full-fledged RMA form?
By adding custom input fields for all necessary details to process the warranty claim as smoothly as possible, you will save yourself and your customer a lot of time and worries.
You can even add an upload component to your RMA form so your customers can attach files such as pictures of the defective product!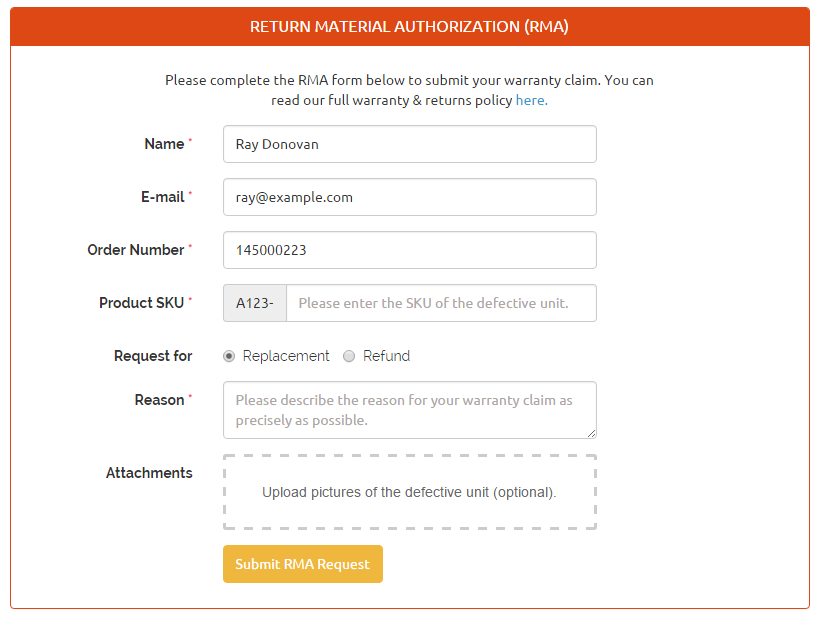 6. Suggestion Form
It's always good to keep a finger on the pulse regarding the usability of your website, products or services. Creating a simple suggestion form is a great way to you give your customers the opportunity to share their ideas and tips with you!
If customers can't find a specific product in your store you can encourage them to contact you by creating a product request form. It provides you with new possibilities to extend your product range, or you can adjust product descriptions to make your goods easier to find.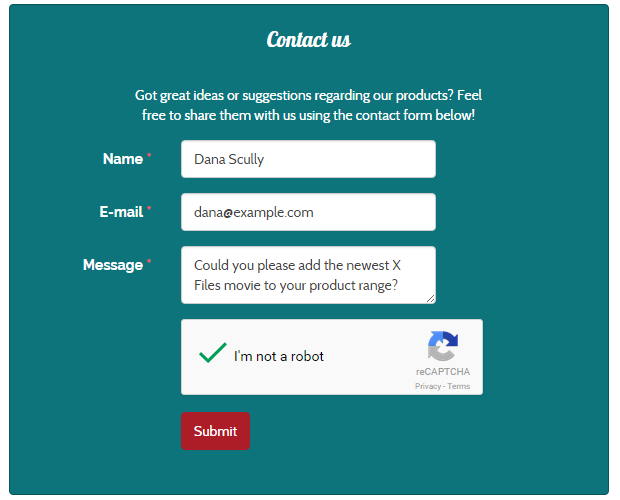 7. Request for Quotation Form
Are you offering custom products or services on your website that don't have a fixed price? Create a request for quotation form enabling your customers to send you all necessary information to provide them with an accurate quote.
By adding selection fields such as drop-down menus, radios or check-boxes to the form, you can automatically include all relevant pricing options for your customer to choose from.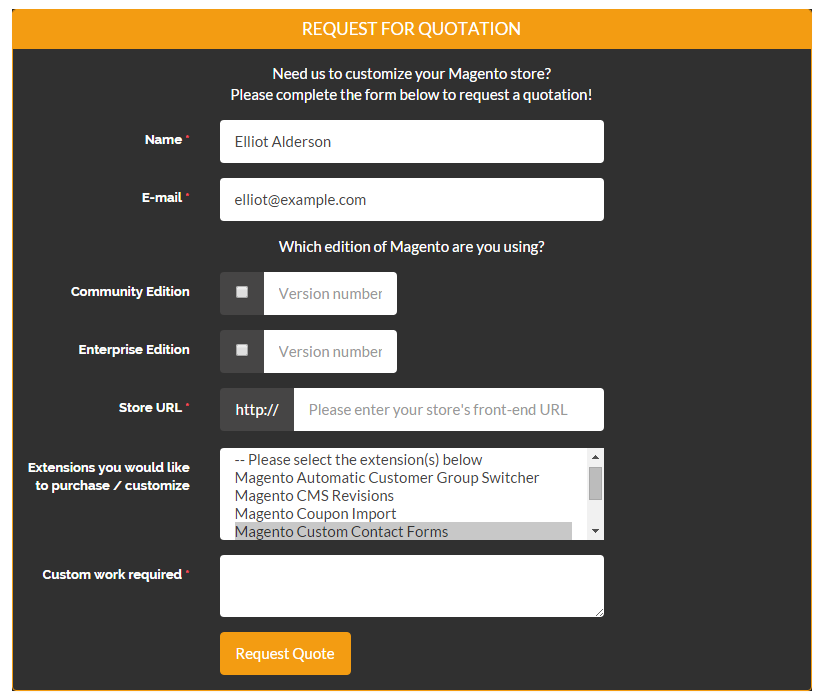 8. Best Price Guarantee Form
A best price guarantee form adds great credibility to e-commerce businesses offering products or services at competitive rates.
If customers find an equivalent offer at a lower price elsewhere, you can promote your company's service by enabling them to submit a claim with the competitive offer details.
Besides providing your customers with extra support, the form has the additional benefit of giving you insight in your competitor's pricing behavior!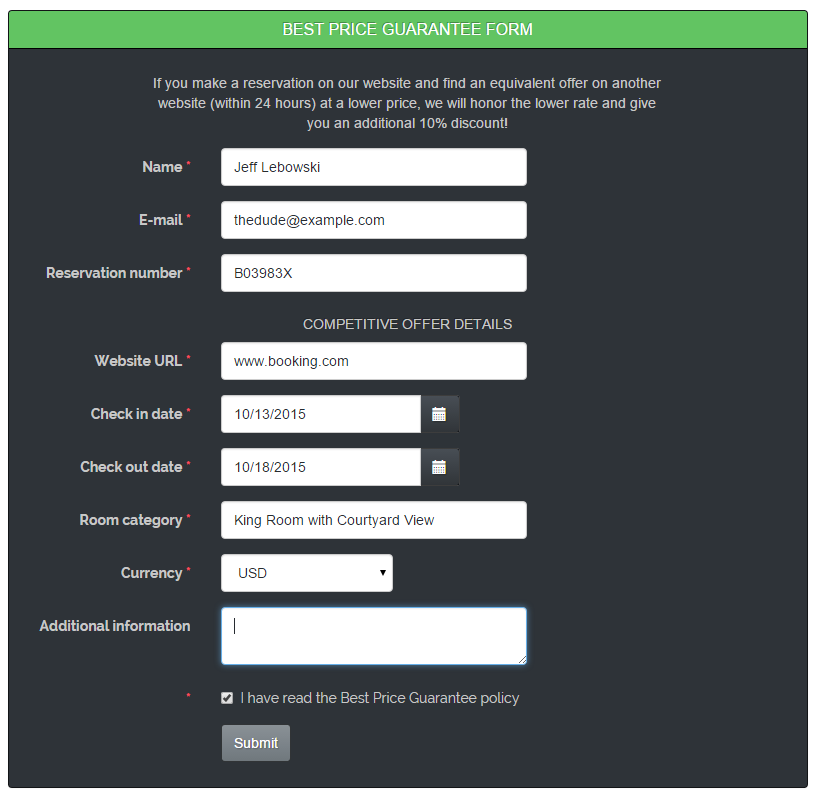 9. Dealership Inquiry Form
For wholesalers or distributors aiming to expand their dealer network, a dealership inquiry form is a great way to facilitate online applications for potential B2B customers.
By creating a custom contact form you can directly gather all required information to assess the dealership application.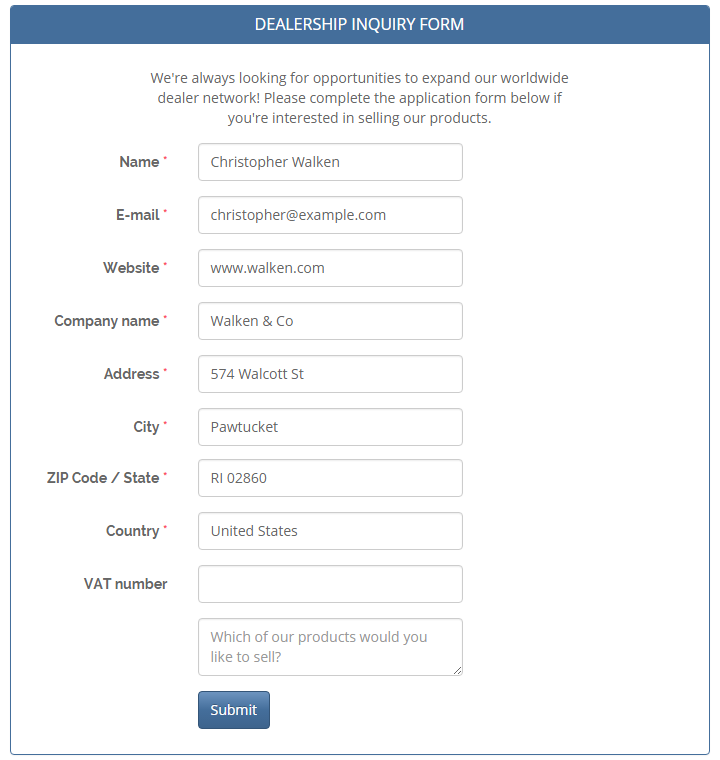 10. Job Application Form
When offering jobs on your website you can facilitate the application process by creating a custom job application form.
Add a file upload component so potential employees can directly send you their CV or any other required documents.
If you need a more extensive application form, you can easily divide it into multiple sections by creating a multi-page contact form as exemplified on the right!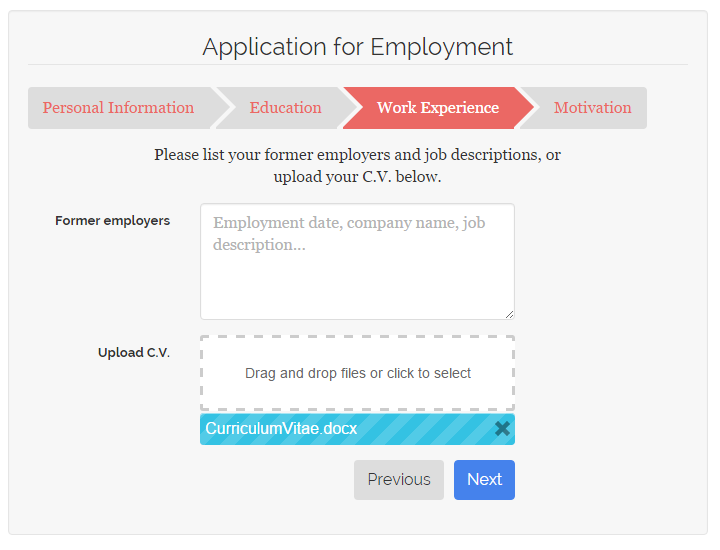 Summary
This article has demonstrated a few commonly used contact form examples that can be created using our Custom Contact Forms extension for Magento. Don't forget to try our Custom Contact Forms demo if you'd like to personally experience the extension's ease of use. Or check out the tutorials below if you want to know more about creating your own contact forms for Magento!
From our blog:
Find similar free tutorials an E-book. Visit our SlideShare Channel